ABA Routing Transit Number
The Credit Union's routing number is a 9-digit number listed at the bottom of your checks directly beside your account number.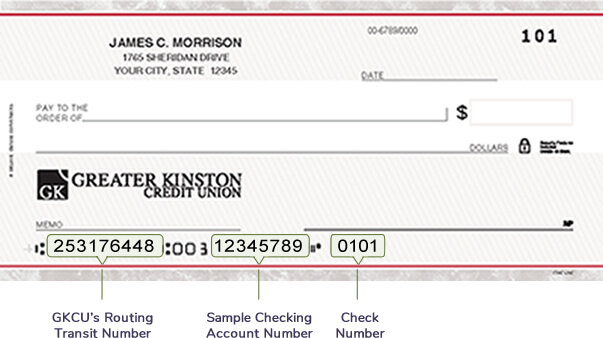 GKCU's Routing Number
253176448

Sample Checking Account Number
12345789
---
Electronic Debit From a Checking Account
Drafts may debit a checking account only.
Electronic drafts / debits must be established with the payee. Drafts cannot be established with the Credit Union.
Checking account numbers must be 11 digits. Include the institution number (003) and account number (sample:

00312345789

).
Electronic Credit to a Checking, Share, or Money Market Account
Checking account numbers can be up to 8 digits; leading zeroes are not required. Checking account numbers, as they appear on physical checks, include a prefix of "003" which is not necessary to process electronic transactions and is only used when processing physical checks.
Share account numbers must be 9 digits. Include any leading zeros (sample:

000123456

).
Money market share accounts are coded as checking accounts. Account numbers can be up to 7 digits; leading zeroes are not required.